Trump Plaza Casino di Atlantic City berubah menjadi debu
/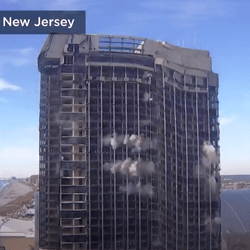 Itu saja, resminya: Trump Plaza Hotel and Casino yang terletak di Atlantic City Boardwalk yang terkenal sudah tidak ada lagi. Memang, pendirian yang tidak dihuni sejak September 2014 ini akhirnya diratakan.
Pada hari Kamis, 19 Februari 2021, itu meledak dalam beberapa detik, yang menyebabkan 39 lantainya runtuh. Peledakan yang telah lama direncanakan ini baru saja mengakhiri kehadiran mantan Presiden Amerika Serikat Donald Trump di industri kasino.
Momen bersejarah menurut walikota kota
Proses peledakan Trump Plaza Hotel and Casino berlangsung pada hari Kamis, 19 Februari, hanya beberapa menit setelah jam 9 pagi. Itu terjadi di hadapan walikota Atlantic City, Demokrat Marty Small Sr, yang tidak ragu-ragu berbicara tentang momen bersejarah kota itu. Hilangnya gedung ini memang melegakan bagi seluruh warga dan wisatawan. Sangat bobrok, setiap saat berisiko melukai orang yang lewat dengan banyak puing yang sering jatuh.
Oleh karena itu, ini adalah kemenangan bagi walikota yang telah lama berusaha meyakinkan pemilik gedung saat ini untuk menghancurkannya. Faktanya, pengusaha Carl Icahn tidak pernah menentang gagasan ini.
Dia hanya tidak ingin menanggung tagihan sendirian. Jadi dia mencoba meyakinkan Otoritas Pengembangan Investasi Kembali Kasino New Jersey untuk membantunya. Setelah gagal melakukannya, dia akhirnya setuju untuk melakukannya dengan biaya sendiri.
Naik turunnya Kota Atlantik
Pada akhir 1970-an, New Jersey memutuskan untuk menjadi negara bagian Amerika kedua yang mengizinkan pembukaan kasino darat di wilayahnya. Semuanya akan dibangun di resor tepi laut yang terkenal di Kota Atlantik.
Ini tiba-tiba menjadi sangat menarik bagi berbagai operator di negara ini. Pada saat inilah pengusaha Donald Trump mulai menaruh minat pada kota ini. Dia kemudian membangun beberapa kasino hotel: Trump Plaza, Trump's Castle dan Trump Taj Mahal.
Sayangnya, untuk industri perjudian lokal, negara bagian tetangga juga secara bertahap mulai melegalkan jenis pendirian ini. Dengan demikian, mereka yang berada di Atlantic City mulai menghadapi kesulitan yang mencapai puncaknya pada tahun 2014.
Tahun itu, tidak kurang dari 4 kompleks terpaksa gulung tikar: Atlantic Club pada 13 Januari, Showboat pada 31 Agustus, Revel pada 2 September dan Trump Plaza pada 16 September. Sejak itu, yang terakhir tidak pernah membuka kembali pintunya untuk umum.
Trump Plaza masa lalu dan masa depan
Diresmikan pada tanggal 15 Mei 1984, Trump Plaza dirancang oleh arsitek Martin Stern Jr. Duduk di Atlantic City Boardwalk yang terkenal, kasino hotel ini berisi 906 kamar dan suite, toko, bar, restoran dan juga ruang permainan besar yang meliputi suatu area. dari hampir 8.500 m².
Dua tahun setelah ditutup, itu dibeli oleh pengusaha Carl Ichan. Yang terakhir belum mengumumkan apa yang ingin dia lakukan dengan lapangan. Sementara itu, Walikota Atlantic City mengatakan dia berharap sesuatu yang didedikasikan untuk hiburan keluarga akan dibangun di sana. Memang sangat kurang di kota menurutnya.